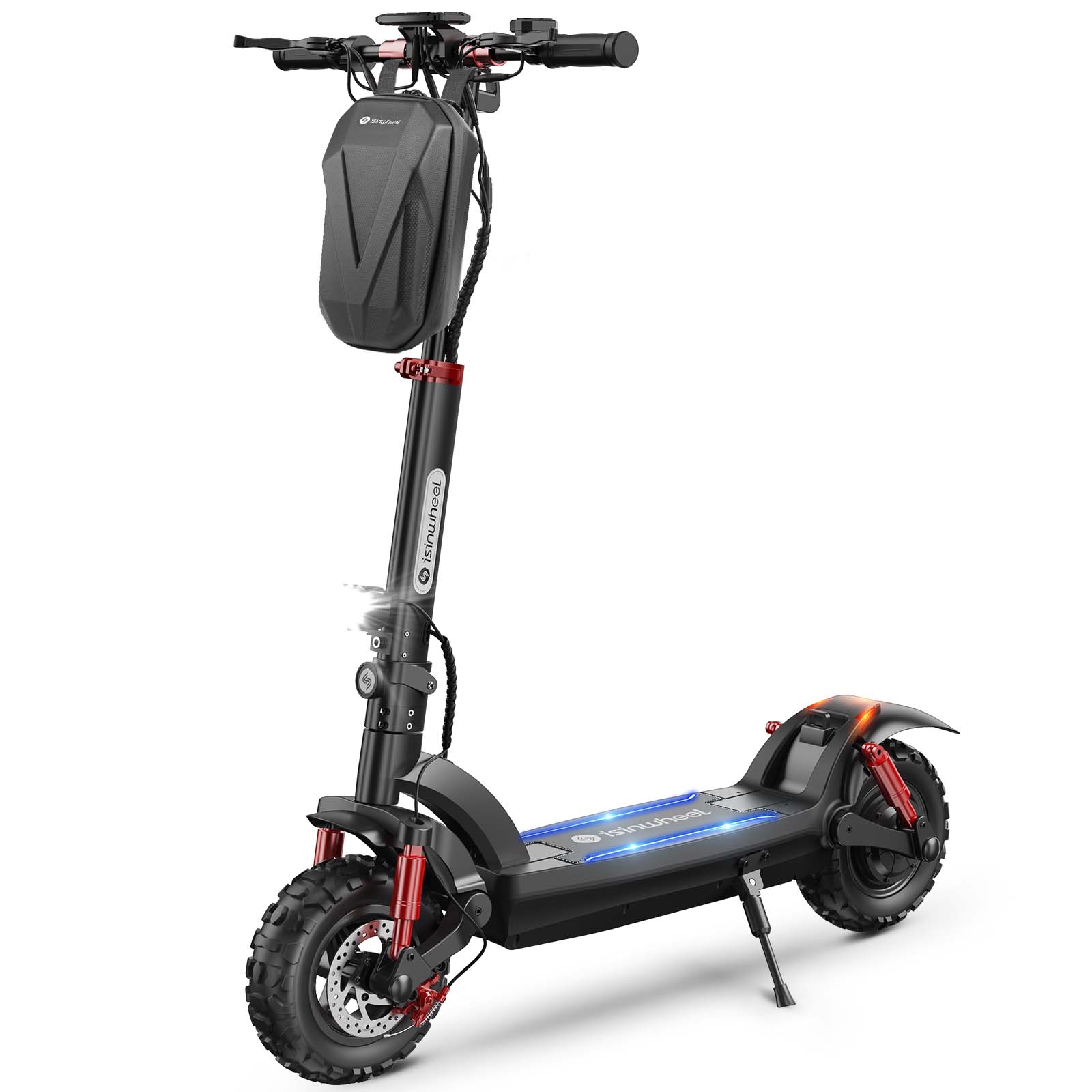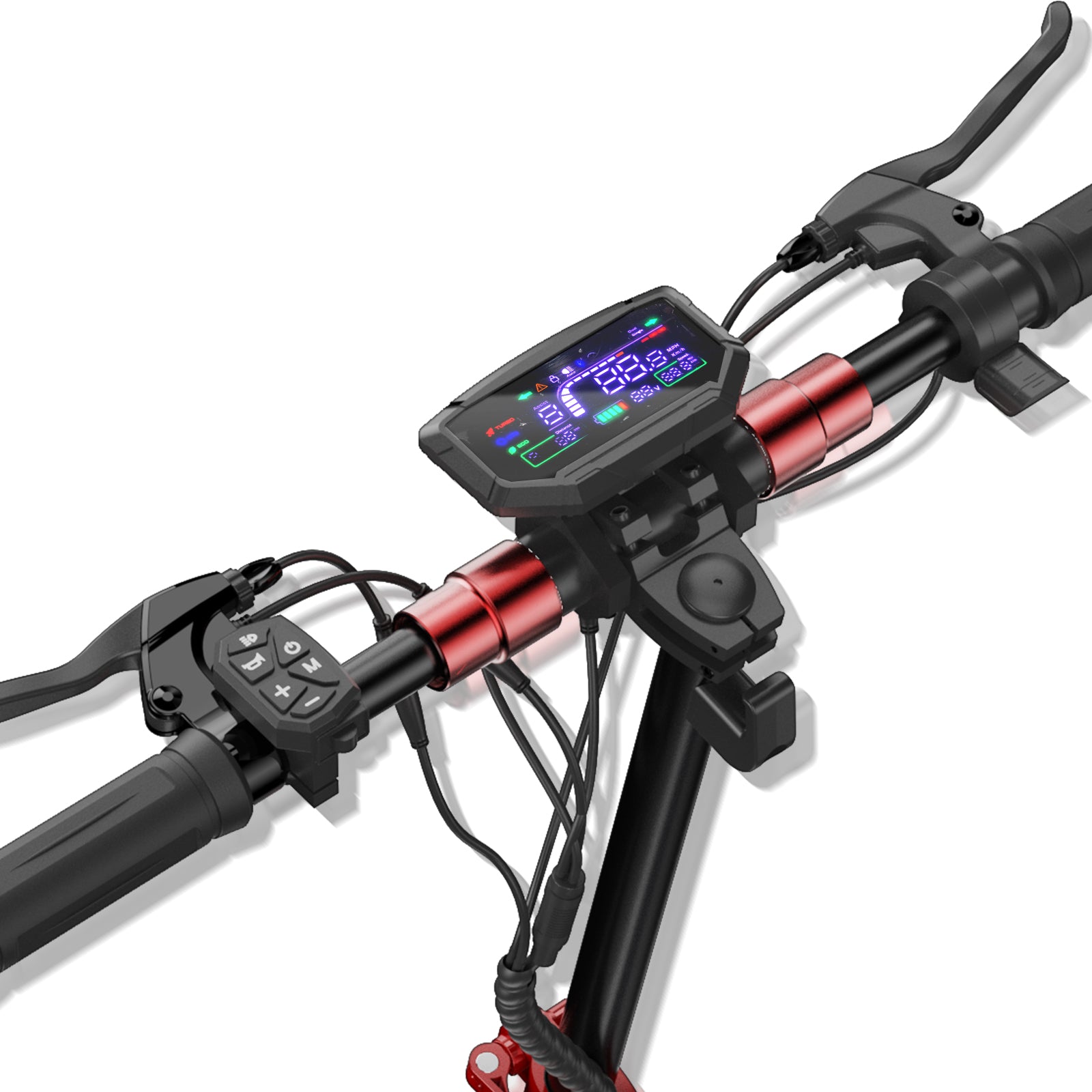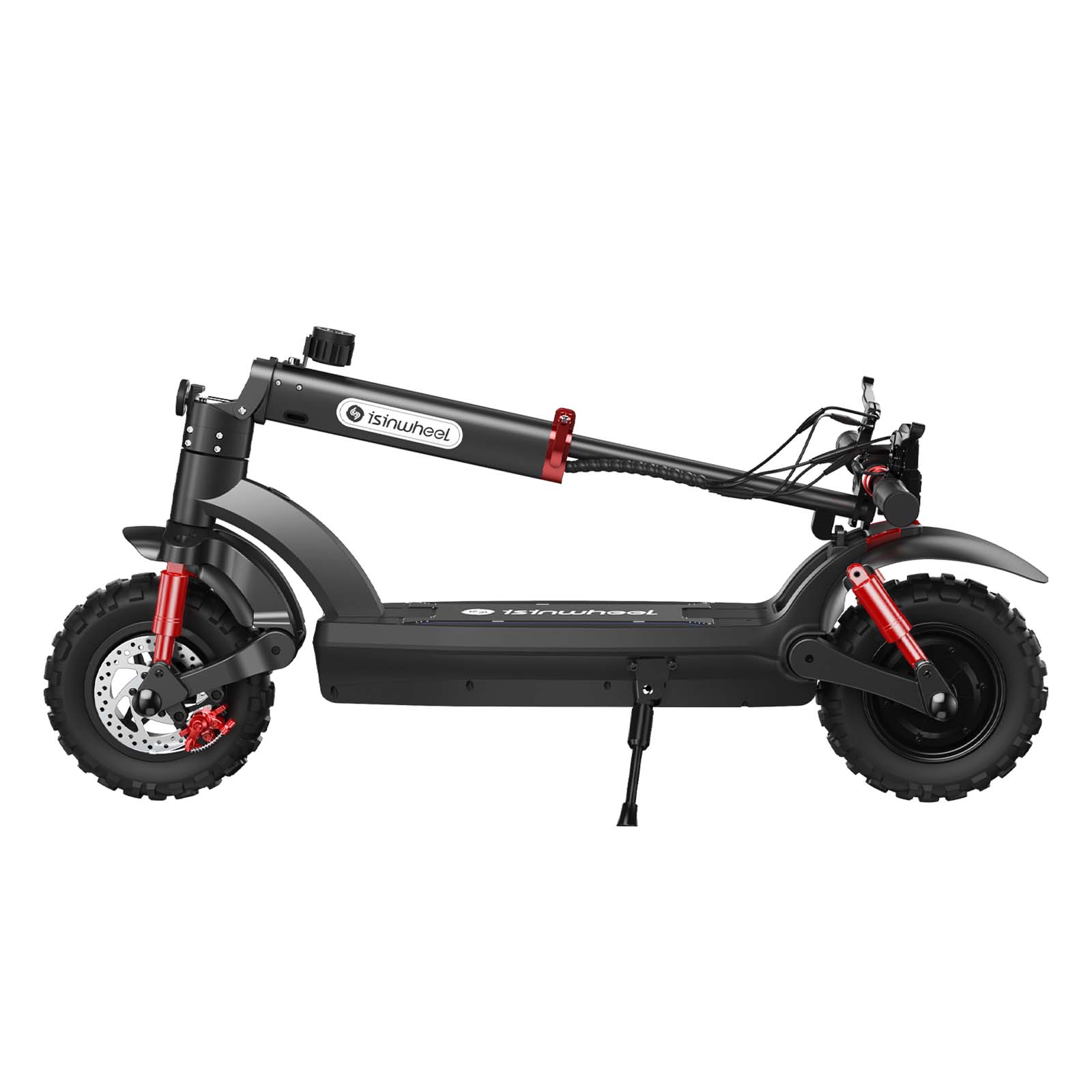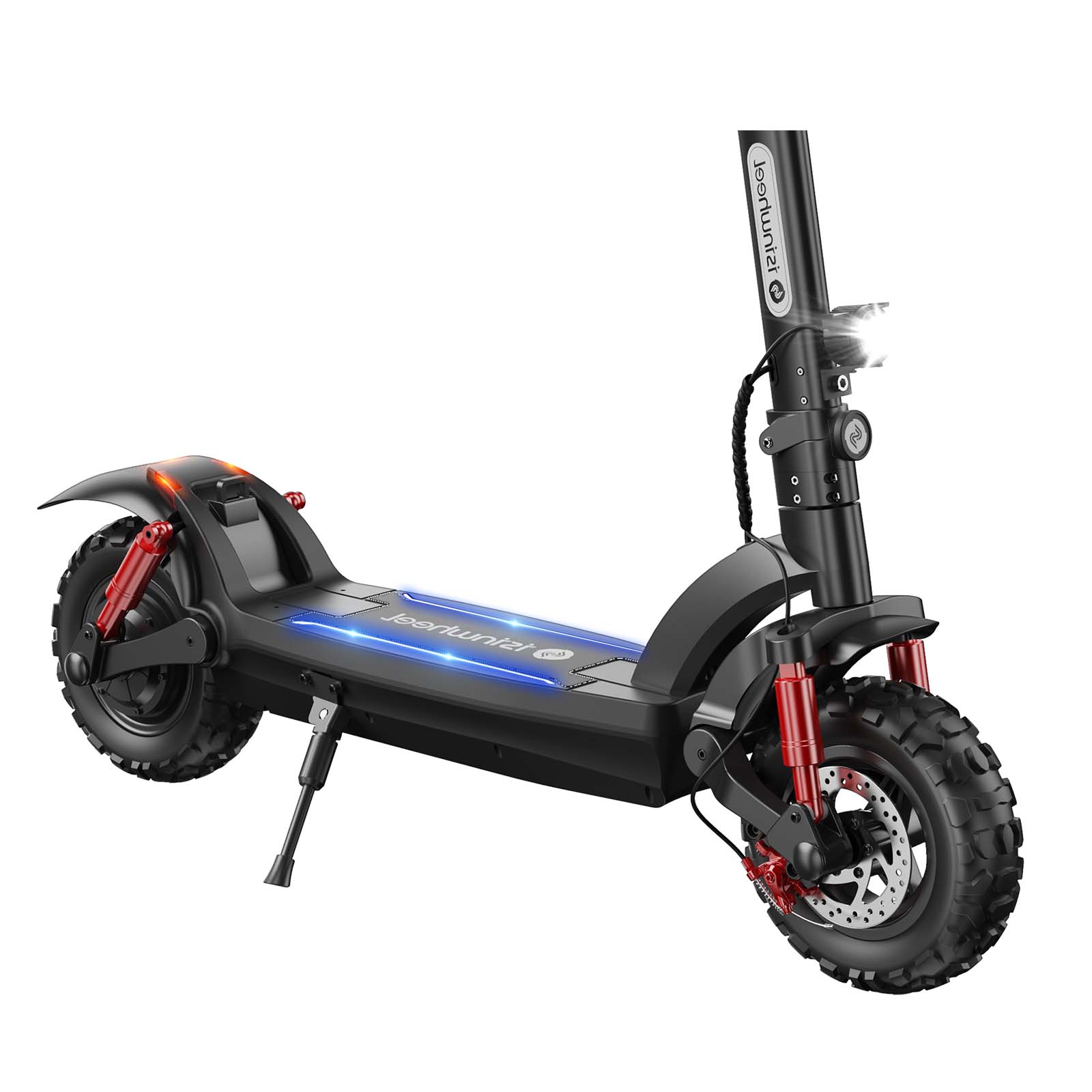 isinwheel GT2 800W Off Road Electric Scooter
Regular price
$1,099.99 CAD
Sale price
$1,099.99 CAD
Regular price
$1,299.99 CAD
Get 5% OFF
Cyber Monday Sale
2-7 Business Days Delivery
UPS/FedEx Reliable Carrier

Support Paypal/ Credit Card

14 Days No Reason Returns
One Year Warranty Service
SPECIFICATION
Top Speed

45 KM/H/28 MPH

Range

40 KM- 45 KM/ 25 Mile-28 Miles

Battery

48V 15 Ah

Motor

Rated Power 800W(1000W Max Power)

Wheel Size

11 inches Off- Road Pneumatic Tires

Water Resistance

IP54

Charge Voltage

100-240V/2A

Charge Time

5-7 Hours

Operating Temperature

14°F-104°F

Net Weight

24.3 kg/53Lbs

Folded Dimensions

48*8.6*22 IN / 122*22*57 CM

Unfolded Dimensions

48*25*49 IN / 122*63*125 CM

Climbing Ability

35%

Brakes

Front and rear disc + EABS  brake

LED Lighting

Front headlight and ambient lights, turn signals and brake light

Recommended Age

14 + Years

Max Load

150kg(330lbs)

Recommended Height

120CM-200CM
PACKAGE INCLUDED
1 x GT2 electric scooter
1 x Charger
1 x Manual
1 x Scooter Bag
1 x Toolkit
SHIPPING INFORMATION
🚚Shipping- Free shipping on all orders to the Canada, 2-7 business days delivery time.
💝 Return & Refund Guarantee- 14 Days Money Back & One Year Warranty.
📞Customer Support- Please email to support@isinwheel.com. Our experts will reply within 24 hours.
FAQ
Q: Is there an optional seat available for GT2?
A: Of course, we can check the link below:https://www.isinwheel.ca/products/isinwheel-adjustable-seat-for-gt2-electric-scooter
Q: How to install the seat with GT2 Off Road Electric Scooter?
A:Here is a video of installing the seat for your reference:
https://youtu.be/S7-JBGJfzDY
Q: My battery doesn't last long / short range

A: Just like electric cars, electric scooter range can be affected by many different factors.

For example, electric cars have a maximum range but going up steep hills, adding more weight / passengers or driving fast will all contribute to faster battery usage and therefore a reduction in the true range achieved.
8.isinwheel electric scooter range claims are based upon standard testing regulations with a 160 lbs rider at 25 degrees Celsius on a stable surface.
Q: How to tighten the handle of GT2 Off Road Electric Scooter?

A: You need to tap the handle up, lift it up slightly and pull. If loose, it can be adjusted. Tighten the fold counterclockwise and loosen clockwise.
Q: Change the battery of GT2 Electric Scooter

A: Remove the foot support and open the bottom cover.
Disconnect the battery cable, replace the battery with a new one, and test whether it is normal after starting up
3. Install the bottom cover, install the foot support
Q: Replace the inner tube of GT2 Off Road Electric Scooter
1. Take out the rear wheel (motor wheel) first
         1.1 First remove the foot support
         1.2 Open the bottom cover, disconnect the motor connection wire
         1.3 Remove the brake and take out the motor
2. To replace the inner tube (refer to the video), the inner tube needs to be emptied first, and then the inner tube is replaced.
3. Install the motor, connect the motor line, install the bottom cover after installing the brake, and finally install the foot support.
Q: GT2 Electric Scooter Unboxing and Assembly Video

A: https://www.youtube.com/watch?v=OBOuSljcDj8
Q: How do you change display from Kph to mph. when you turn the screen on you can see both , so must be a setting to set for mph
A: press and hold the "M" button on the menu button + the light button for a while to enter the setting mode, when the P01 mode is displayed press the "+" button or the "-" button to switch between the KMH and mph formats.
Q: Can you drive it on the rain is it water proof?
A: Hello, the waterproof grade of isinwheel GT2 electric scooter is IPX4. We do not recommend that the scooter be wet outdoors for a long time.
Q:How does the gt2 electric scooter work the turn signals?
A: you can control the turn signal through the button on the left side of the front of the scooter. This is the latest upgraded safety indicator
Q:Does this scooter fit in the trunk of a car?
A: Hello, GT2 electric scooters are usually in the trunk of the car, the specific size is Unfolded (Length x Width x Height): 48*25*49 IN, Folded (Length x Width x Height):48*8.6*22 IN.
MANUAL
Aluminum Alloy Frame
The GT2 electric scooter features an aircraft-grade, lightweight aluminum alloy frame, guaranteeing exceptional body durability even in the most extreme conditions.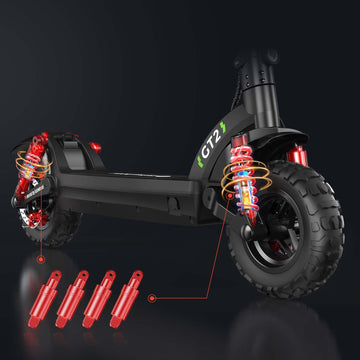 Dual Suspension System
The GT2 electric scooter is equipped with a state-of-the-art front and rear suspension system. Whether you're cruising on smooth asphalt or venturing into off-road terrains, your GT2 ensures an unparalleled riding experience.
Outstanding quality of the isinwheel
The GT2 electric scooter boasts an impressive weight capacity of 330lbs/150KG, enabling riders of diverse sizes to confidently experience the joy of riding with utmost safety.
Detachable Seat for Unmatched Versatility
The GT2 is able to install a detachable seat(not included), allowing you to easily switch between standing and seated riding modes. Whether you prefer an exhilarating stand-up ride or a relaxed seated cruise, the choice is yours! This flexibility ensures maximum comfort for longer rides and allows you to adapt to various terrains effortlessly
Get Some Inspirations
| | | | | | |
| --- | --- | --- | --- | --- | --- |
| | i9 | S9MAX | iX3 | GT2 | RPRO |
| Motor Power | 350W | 500W | 800W | 800W | 1600W |
| Tires | 8.5 inch Honeycomb Tires | 10 inch Honeycomb Tires | 10 inch Pneumatic Tires | 11 inch Pneumatic Tires | 10 inch Off Road Tires |
| Maximum Load | 120KG | 120KG | 120KG | 150KG | 200KG |
| Product Weight | 13KG | 16KG | 22KG | 24KG | 29KG |
| Maximum Speed | 25KM/H | 32KM/H | 40KM/H | 45KM/H | 45KM/H |
| Maximum Range | 28KM | 35KM | 45KM | 45KM | 50KM |
| Suspension Type | ✘ | Front & Rear Dual Suspensions | Front & Rear Dual Suspensions | Front & Rear Dual Suspensions | Front & Rear Dual Suspensions |
| Support APP | ✔ | ✔ | ✔ | ✘ | ✔ |
| Scooter Bag | ✘ | ✔ | ✔ | ✔ | ✔ |
| Price | $499 $359 | $699 $550 | $999 $759 | $1299 $1044 | $1599 $1349 |
Love this scooter
Way more than enough power. Ample battery to get around at decent speeds up to 45 KM/H. Has a speaker and headlight, underneath the board as well as logo lighting including a red tail light for safe operation at night.
Cheap off road electric scooter
it is a great toy for adult. I bought it to go ride with my kids and go around to get grocery. Battery life is long. I probably need to charge once a week but it only takes hours to get maximum battery. It has been working well and love it.
Amazing road electric scooter
I love this scooter, I bought this for me to drive to work. It's very convenient. This best off road scooter has the best engineered, good power and the lights are bright.
Very satisfied!
I had the scooter for a few months now, so far it's been everything they said it was. The only problem I have is folding and unfolding it, but that's what makes it safe and, it's pretty much stable at high speeds and handles bumps really well.
It's quick
Love this scooter. It's easy to use and so much fun. Just need to be aware it is peppy. It is quick. The scooter didn't come with directions. It was fairly simple to assemble. I love it.
Really enjoy riding it
I've my GT2 for a week now been out on it twice now can't believe wot a bit of kit does wot it says on the box so impressed with it and can't wait to go out on it again this week love it
Legendary scooter, best bang for your buck
This is a very good scooter, sturdy and pleasant to ride. The front and rear suspensions are very useful! The control screen is excellent, and the non-slip footboard is impeccable. The speed modes are great; it accelerates quickly, which is very handy on hills 😉...highly recommend this scooter, as it allows you to go just about anywhere. 👍
Amazing road electric scooter
What I find good:
Robust
Compliant top speed
Very good value for money
Efficient after-sales service
What I find less good or to improve:
Add in the manual what the numbers mean in the menu
No adjustment of the light intensity of the LEDs
Left-hand rear brake instead of right-hand
a bit heavy
Otherwise, it's great.
Very well built!
I have had this scooter for about a week now and just use it for short trips throughout the day. I have to say overall I am very impressed! Seems to be very well built and sturdy. I'm not exactly to smallest guy around but it does not have any problem at all getting me around. I have not tried to max out the speed yet still not comfortable enough for that. The cruise control is nice but still need to figure out how I am turning it on. Lol! I used it for 3 days before charging it and did not take long at all to charge. Compared to other scooter prices that can handle my weight I do not feel like I sacrificed at all. I would definitely recommend this scooter to anyone looking for one.